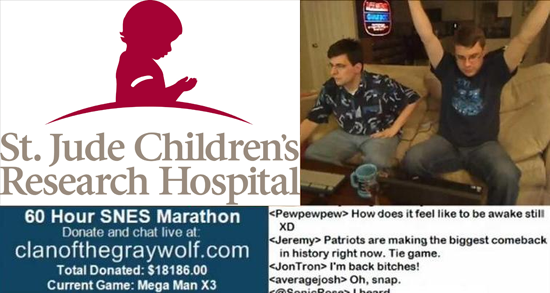 It's time for our 6th annual video game marathon for charity, and we're making it bigger than ever with over 60 hours of 16-Bit gaming! Join us at noon EST on Friday, December 12, 2014.
St. Jude is unlike any other pediatric treatment and research facility – discoveries made there have changed how the world treats children with cancer and other catastrophic diseases. With research and patient care under one roof, St. Jude is where gifted researchers are able to save the sick and needy. We are very excited to name them as the beneficiary of this year's charity marathon.
The marathon itself will involve 60 hours of fun with the a variety of 16-bit game consoles – Super Nintendo, Sega Genesis, even the Philips CD-i… and you tell us what to play! Beyond chatting with us live, you can donate to have us relive old favorites, or share in your childhood miseries. Of course, this is made possible by donating to the cause.
You will help us unlock achievements for reaching certain goals, including the premiere of a new episode of 16-Bit Gems!  In addition, the perks for individual donations are:
– Any amount: Entry into daily drawings for video game art, Steam games, Jayne hats, baby Groot dolls, and more!
– $25: You'll be entered into a drawing for our grand raffle prize! (TBD)
– $50: In addition to the above perk, you will receive an exclusive, high quality, limited edition, RPG-inspired Clan of the Gray Wolf bookmark! Works with both paperbacks AND hardcover! *Note: Special adapter may be needed in Canada*

– $75: In addition to the above perks, you will be able to choose ANY Super Nintendo or Genesis game for us to play (if we don't have it, we'll get it!) *Note: Please request the game & what time we should play it during the marathon as a note in the "Dedication" section while donating*
– $100: In addition to the above perks, you will present us with a challenge for your selected game! The challenge must be time based, and no longer than 20 minutes – just try to best us! (For example: Beat Stage 1-1 in Super Mario World within 10 minutes)
– $150: In addition to the above perks, you will receive a Super Nintendo game from Roo's personal library. It may even be rare… -ish
Please mark your calendars and watch this page for more details. If you would like to donate Steam or other digital download games for us to raffle off during the marathon, please contact us at CotGW.Marathon@gmail.com – we'll be happy to consider any physical raffle prizes you'd like to donate too!
We will be using Razoo to process all donations, and the fundraiser is open now – Feel free to click the widget below and use your credit card or Paypal to donate to this worthy cause and get your game requests in before the rush. See you on December 12th!